It's been a memorably difficult year for most of us. The pandemic and all the challenges that have come with it have created chaos in so many lives. It would be easy to look back and see mostly darkness, but as the year draws to a close, I'm going to focus on what, for me, has been good about the last twelve months.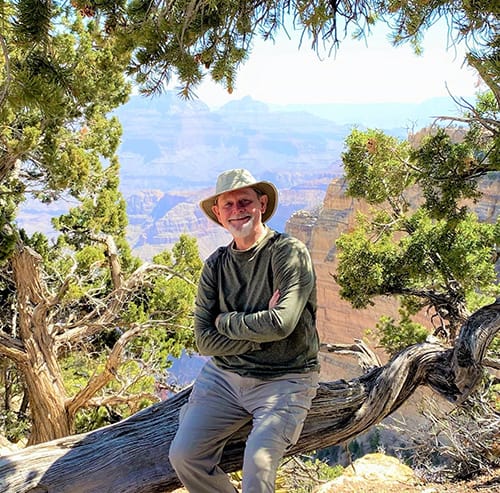 In March, I received the second Pfizer vaccination, which gave me enough confidence to embark on my family's yearly sojourn to Sedona, Arizona. I love Sedona for two main reasons: the beauty of the Red Rocks area and the vast number of terrific hiking trails. We rented a house overlooking Oak Creek with a stunning view west to the mountains and the old mining town of Jerome. And I hiked to my heart's content. I took some time as well for a brief visit to the magnificent Grand Canyon. Which reminded me, as it always does, that Nature trumps every human artistic endeavor.
Much of the spring, summer, and fall, I spent on two wheels. A rediscovery of the joy of biking was one of the few silver linings of the pandemic. Between my reliable old Trek and the Vado e-bike I purchased this year, I put in several hundred miles on the wonderful trails here in Minnesota. To my delight, I also discovered joy in simply biking my own neighborhood, finding little gems that I'd overlooked all these years but in going slowly on my bicycle, I finally took the time to notice.
In addition to keeping cool in any number of our pristine lakes last summer, my wife and I put in some sweltering time as part of an outreach effort by our church congregation, helping to build a playground at a shelter for homeless families. The temps topped 100 degrees. I'm 70, and the work nearly killed me, but it was grand to see the joy the playground brought those families.
The other outreach program we're part of is the community bread oven our congregation has built on the church lawn. Over the past six years, in addition to bread, we've baked pizzas, hot cross buns, blueberry crumble, doughnuts, pretzels, potatoes, and Stollen. This year, we added bagels to the menu, which were a huge hit with our congregation and all the folks from the neighborhood who smelled the enticing aroma and dropped by to share in the repast. This simple sharing of a meal, of food created in a way communities have baked for thousands of years, continues to be one of my great joys.
Of course, on the literary scene, my big news was the release of Lightning Strike, the newest novel in my Cork O'Connor series, which debuted at #5 on the New York Times bestseller list and has found its way onto many best-books-of-the-year lists.
As I look ahead, I'm eagerly anticipating the release next year of #19 in my Cork O'Connor series, a novel titled Fox Creek, due out in August. Keep watching my Facebook page and my website, and early in 2022, I'll be telling you much more about this thrilling addition to the series.
To everyone, I wish better times ahead and the fulfillment of dreams put on hold for too long.